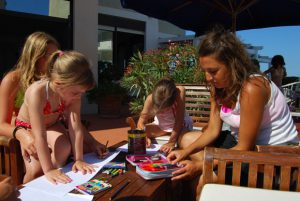 In high season (15 th June – 15 th September) the hotel's entertainment program will offer plenty of activities for all ages. Children 4-11 years join our miniclub at the hotel or at the beach, where the animation's staff will keep them busy with sand castles, poolside games etc.
Our sport activities start with the morning gym, followed by watergym in the pool. In the afternoon various sport tournaments take place: beach bowling ("bocce"), beach volley, water polo in our pool, table tennis…
The aperitif game is a nice opportunity for our guests to meet and have fun.
Surprises go on even after dinner, come and join our fancy dress parties, pair games. Our little guests will have fun with their baby-dance, evenings of magic and animation.